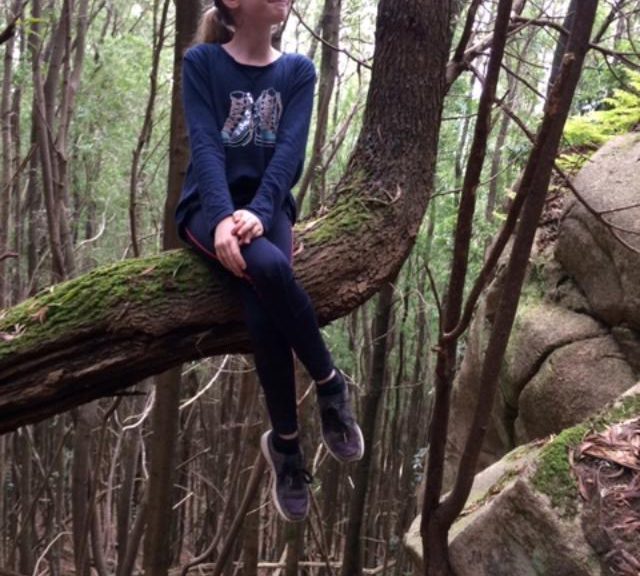 Why Should Kids Play Outside?
Why Should Kids Play Outside?
An Indoor Childhood
The topic of our children's ever-increasing time spent indoors has sparked many studies and discussions over the last decade or so. So why should kids play outside? I'm going to delve into the reasons the indoor phenomenon has come about, the health risks associated with it and the natural antidote for turning it around.
"Nature Deficit Disorder describes the human costs of alienation from nature, among them: diminished use of the senses, attention difficulties, and higher rates of physical and emotional illnesses." Richard Louv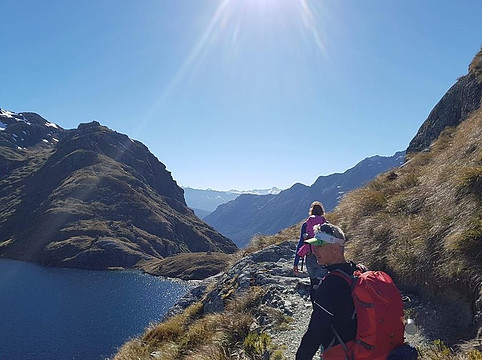 Natural Pull of Nature
We love nature and the feeling it brings when we've been amongst it for any length of time. More and more studies are showing this feel-good factor runs far deeper than just providing a pleasant contentment. Time in nature for us and for our children provides some amazing physical and emotional benefits.
Getting kids outside can be a much easier said than done task. Through various influencing factors we have become increasingly protective of our children to a point that is highly detrimental to their well being.
The Over-Protective Problem
What are these influencing factors? I tried to have a good think about this from my own personal perspective. I believe this phenomenon of over-protection has simply crept up on us.
The combined effects of technology, media orchestrated fears and the increasing pressure on parents to provide a well-rounded upbringing. We are frantically trying to tick all the boxes and filling all of their spare time in a range of activities in the way of set after-school and weekend endeavors.
Perhaps we need to give ourselves a break, and in turn do them a favour, with some unstructured play in nature.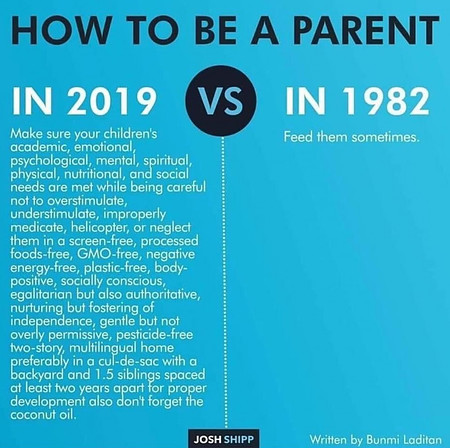 When We Know They're Safe
Let's face it, knowing our children are safe and within our reach brings huge peace of mind.  Why should kids play outside when there are so many threats out there?
But perhaps we have underestimated the actual dangers of the perceived "safety" of our homes. And probably more significantly, we have well overestimated the dangers of the outside world.
"Fear is the most potent force that prevents parents from allowing their children the freedom they themselves enjoyed when they were young." Richard Louv
Major Fear No.1 Stranger Danger
I know for me, the fear of abduction of my child when she is on her own is high up there. Apparently fears like this are escalated out of proportion due to the fact we can easily recall an example of this type of horror.
When we first spoke of spending some time in Portugal the first thing my mother-in-law responded with was "but isn't that where Madeleine McCann was kidnapped?!". This highlights this irrational fear due to such a shocking event.
Looking at the statistics can help put things into a bit of perspective. RCMP (Royal Canadian Mounted Police) reports that the chance of total stranger abduction of a child is one in 14 million.
Children are actually at greater risk of harm from an adult known to them, (either from the home, known to the home (friend or relative) or from initial contact through the home such as via an online predator).
Navigating a few hundred metres to the bus stop or the local shop is perhaps not the high risk activity we have come to believe it is.
Major Fear No. 2 Traffic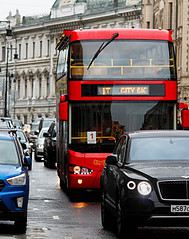 The percentage of children aged 10-14 who walk to school or the bus stop on their own has decreased significantly in the last twenty years. Apart from stranger danger there is our fear of traffic.
In fact, the chances of a child being struck by a car while out walking are considerably lower than the likelihood of being involved in a car accident as a passenger.
When a child has acquired critical thinking and risk assessment skills (which exposure to nature can provide, read on..) then navigating traffic and road rules becomes less of a concern for a parent.
Major Fear No. 3 Injury
Did you know that in the UK there are three times more hospital visits for children falling out of bed than falling out of a tree? Other reasons high on the list are poisoning (mostly from domestic cleaning products), and burns and scalds.
Learning to assess and take 'safe' risks as a child are known to provide our children with valuable tools to prepare them for adulthood. One of the best places to do this is in a natural playground.
"A risk rich environment is one that enables children to assess and take risks in their play. This is important for children as it allows them to make choices, test their limits, meet challenges, explore boundaries and learn about and from risk. At a basic level, children should (individually and in groups) have opportunities to be actively involved in a whole range of physical movements, balancing, swinging, rocking, jumping, bouncing, sliding, cycling, stretching, carrying, digging, climbing, crawling, hopping and skipping." Early Childhood Ireland
"An indoor (or backseat) childhood does reduce some dangers to children; but other risks are heightened, including risks to physical and psychological health, risk to children's concept and perception of community, risk to self-confidence and the ability to discern true danger." Richard Louv
Let's look at some long-term health risks of an indoor childhood:
Obesity.

Depression.

Myopia (shortsightedness).

Type 2 Diabetes.

Heart disease.

Vitamin D deficiency.

Higher prevalence of mental health issues and stress and anxiety.

Decrease in emotional resiliency.

Decrease in the ability to assess (and take) risks.

Increase in the incidence of ADHD.

Increased exposure to allergens from the home, increased risk of asthma.
"Studies have provided significant evidence of the association between many indoor pollutants and allergens and asthma morbidity, and have also demonstrated the efficacy of multifaceted indoor environmental interventions in childhood asthma. There is also a growing body of evidence suggesting that some indoor pollutants and allergens may increase the risk of developing asthma." PubMed.gov – the US National Library of Medicine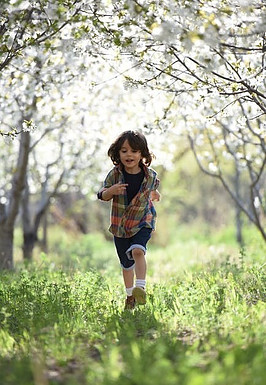 These health risks are scary. Let's move on to the positive stuff, the benefits of exposure to nature:
Exercise. Gets kids moving naturally.

Decrease in incidence of ADHD. And for those who suffer the disorder, exposure to nature has shown to reduce the symptoms significantly.

Increased learning ability.

Increased creativity.

Increased mental, psychological and emotional well-being.

Boosts problem solving skills.

Builds confidence.

Improves memory.

Better vision.

Critical thinking skills and risk analysis.
"Just five minutes' "green exercise" can produce rapid improvements in mental well being and self-esteem, with the greatest benefits experienced by the young, according to a study this year at the University of Essex." Excerpt from The Guardian article "Why our children need to get outside and engage with nature".
And from the Natural Childhood Report by Stephen Moss:
"..confronting head-on perceptions that Nature Deficit Disorder is either peripheral to society or simply an inevitable consequence of modernity. It also demonstrates the widespread consensus that something needs to be done to change the current situation, to enable our children to reconnect with the natural world."
Actually Getting Kids Outside
While the research is clear and confronting, the reality and practicality of implementing this is not that simple. For one, dragging a child off their beloved iPad which has been allowed for so long is a task in itself. Also, I want to point out here I'm not anti-technology. It has its place with many benefits. But as with so many things in life, without balance things can quickly spiral in an undesirable direction.
What is Working For Me (So Far…)
Here are a few tips that worked for me. Start small and encourage with a reward. I know for Lily, the more she gets out there the more she loves it. Just last night she was asking about going camping again.
When I first took my daughter on a hike of any length, the reward was our picnic. This consisted of treat items not usually allowed such as strawberry yoghurt, croissants and orange juice. I believe this was the only reason she wanted to come along!
On a recent camping outing we hiked up 500m elevation into the National Park. After about 8kms of hiking we started to get into some 'real' forest and this is where she really started to enjoy herself.
Where she should be starting to tire, she came alive. Running, skipping, jumping up onto rocks and becoming so excited at the prospect of walking over a log across a stream. And honestly, the look on her face when we reached the summit and an amazing view was simply priceless.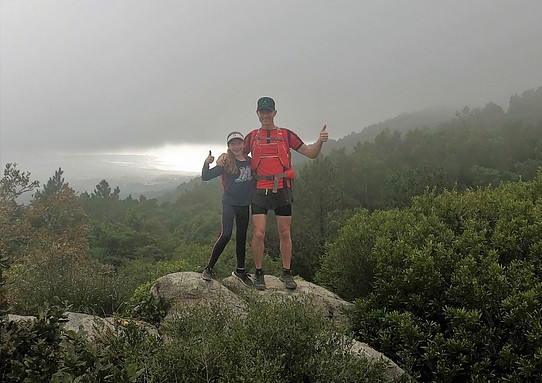 Meeting Their Needs Naturally
After my research I can see how the natural environment was meeting so many needs for my daughter. A natural playground of wonder and adventure, providing physical and mental stimulation without her even realising it.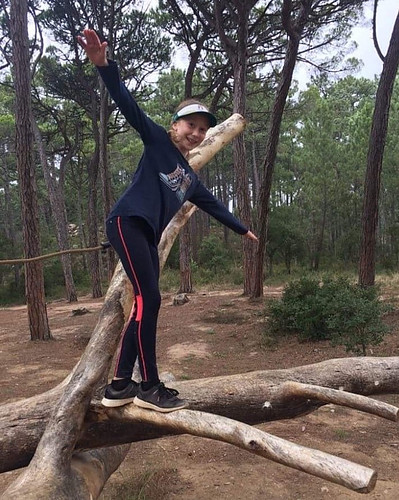 Other ideas for bringing nature into our children's lives:
Check out Richard Louv's online Resource Supplement to his acclaimed book "Last Child in the Woods". He has some great ideas to help us stay connected with nature such as:
Camping, even in the backyard.

Build a weather station.

Create a "green" hour family tradition, where you have one hour daily of unstructured play in nature.

Build a treehouse.

Plant a garden.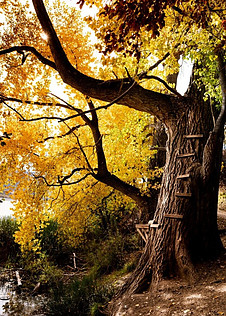 Build on the Positives
For us, we plan to expand on our hikes and camping outings and add in more trail running as her fitness improves. Again, I am reminded of what a wonderful sport trail running is, meeting both our physical and mental health needs.
Related post: Trail Running – What is Your Why?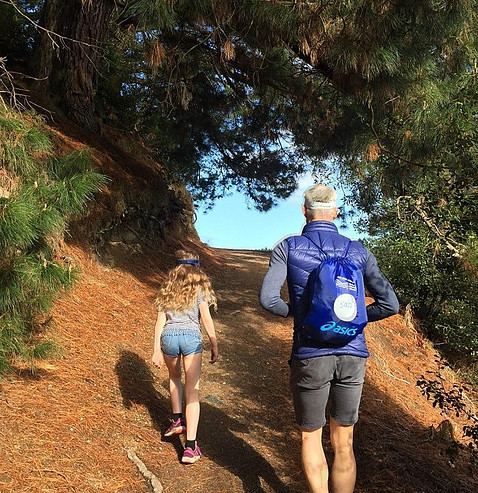 Ultimately, it's about connecting with nature whenever and wherever we can. A lot of the time it's closer than we realise – and sometimes just a matter of stopping to smell the roses.
If you have any tips for getting kids outside I'd love to hear them! Feel free to leave me a comment below.
Happy trails,
Lisa 🙂