Training for Trail Running – Week Four Progress
Training for Trail Running – Week Four Progress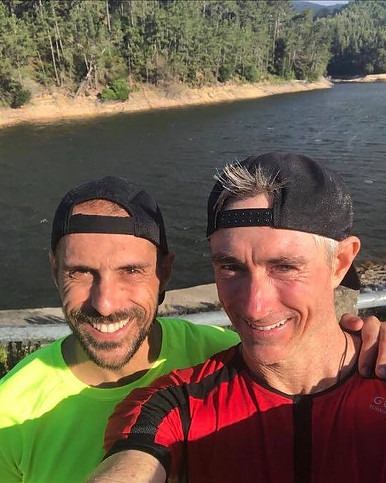 Week four is done with a little bit of a mixture this week.  Having done some longer tempo runs along with some walking to rest the legs in between these key runs.
The last run of the week was the toughest being only 10.7km in distance but had just under 700m of elevation gain. This was a good test to see where the legs were at. After the last climb on this run my legs were cooked, especially as I was running with my new running partner Rui Sequiera.
Rui is a very competent trail, ultra and endurance runner. Heading down from the last climb of hte day with my legs very heavy by that stage, I thought I heard him say "the next climb is the biggest!". I instantly thought there is no way I can keep up with him for another huge climb.  After following him up the other climbs, staring down at his diamond shaped calves and watching him bounce up steep ascents I thought to myself this guy's incredible!
It was then he followed up with "this run will be just over the hour". When I looked down at my watch and realised we were only a few minutes away I thought "phew!".
Total kilometers for the week were again around 90km with the total elevation up a little on last week as planned ast 2004m.
Week went as follows:
TRAINING
DISTANCE
ELEVATION
Monday AM
Rest
Monday PM
Tempo Run
15.3km
356m
Tuesday AM
Easy run

Ocean swim

10 min leg & core workout

6.5km

824m

96m
Tuesday PM
Easy Run
6.5km
96m
Wednesday AM
Easy Run

Ocean swim

10 min leg & core workout

1.4km

840m

70m
Wednesday PM
Walk
4km
60m
Thursday AM
Easy Run

Ocean Swim

10 min leg & core workout

4.6km

906m

66m
Thursday PM
Tempo Run

Ocean swim

20.3km

749m

326m
Friday AM
Walk

Ocean Swim

10 min leg & core workout

5.9km

502m

92m
Saturday AM
Tempo Run

10 min leg & core workout

15.4km
348m
Sunday AM
Warm up Run

Trail run

Warm Down Run

2.9km

10.7km

2.9km

68m

688m

29m

TOTALS
Running  95.5km

Swimming 3072m

2004m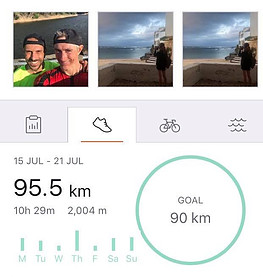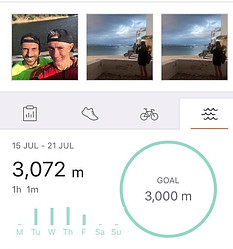 After the next couple of weeks training I will be increasing the weekly distance total to around 100km with elevation increasing gradually week by week.
After my second four week block of training (first four weeks being base training), I am happy with my noticeable difference in leg strength and aerobic capacity. I will introduce a small amount of speed work after next week to mainly help with leg strength, but also with speed.
Till next week, Happy Running.
Andrew.