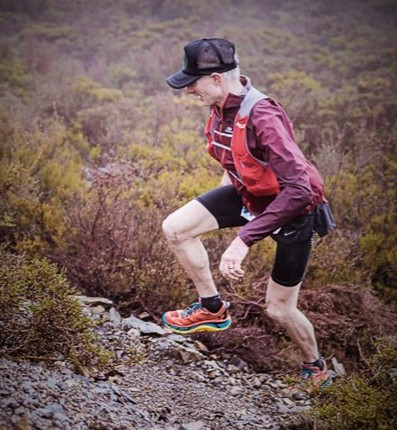 Hoka Mafate Speed 2 Review – 946kms of Trails
Hoka Mafate Speed 2 Review – 946kms of Trails
Hoka One One Mafate Speed 2 Review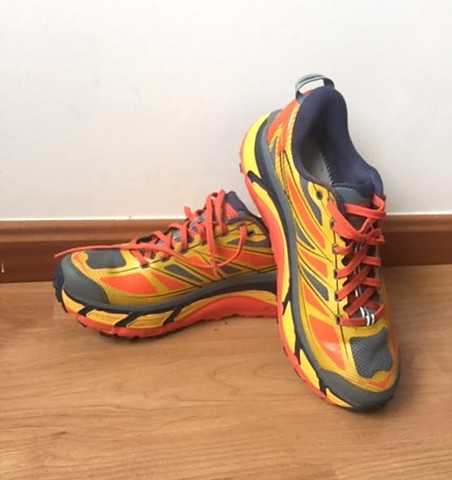 The Hoka Mafate Speed 2 Trail Shoe from Hoka has been my training and racing shoe for the last ten weeks. The Hoka Mafate Speed 2 review below will cover my favourite aspects of the shoe and how it performed for me, along with any areas that let the shoe down.
After spending many training hours in the Mafate Speed 2, along with some races, I have clocked up 824km so far. I will be racing in them at the Epic Trail Azores which will be their last outing as I plan to retire them at 1000km.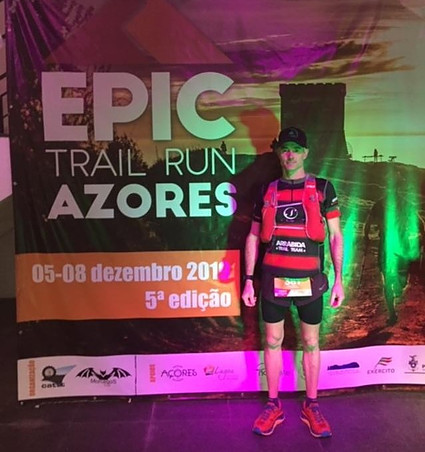 Below is an outline summary of the features of the Hoka One One Mafate Speed 2:
Outsole
The outsole consists of 5mm Vibram rubber lugs and Hoka's own R-Mat blend of rubber. The lugs are strategically place down the front half of the sole and also at the heel. It also has flex grooves in the forefoot area to allow an easy toe off.
Stability I found very good due to the wide based platform. Although the shoe offers good grip in the muddy conditions, I would like to see the entire heel area with Vibram lugs. This would provide even more grip especially when descending in wet/slippery conditions.
Midsole 
The midsole offers loads of cushioning. With a huge 31mm forefoot, 35mm heel, the sole between you and the ground means there is plenty of cushioning regardless of what trail surface you are on.
With that much cushioning some may think that it would lack ground feel and flexibility. I personally feel there is still a reasonable amount, but also that is the trade off for the extra cushioning.
The R Mat and CMEU materials used in the midsole provide great comfort when you're running super long distances. I have been impressed with the durability of these materials.
Outsole
Around 60% of my running has been on trails and the rest on sealed surfaces and there is still adequate grip to do one more race in these shoes. There has been little sign of compression or breakdown.
Related: Best Trail Running Vest – From Short Runs to Multi-Day Treks
Upper
The upper is protective and very durable. Along with it's breathability, it is designed to drain incredibly well. The toe box width I find quite adequate, and I have a reasonably wide foot. While I did come across several complaints in this area,  I honestly had no issues.
I have been particularly impressed with the durability of the uppers. This is an area I have had problems with in the past.
The outer coating holds the shoe together well. This eliminates any premature splitting issues I have had with some of the other Hoka models. There is a little wear around the mid foot flex points which first appeared after 700-750km of running. But this is quite good in comparison to other models.
Overall 
For a longer distance trail shoe I have found the Mafate Speed 2 ideal. It provides maximum cushioning and comfort for runs that last for hours. The lugs provide enough grip for long trail runs and the breathable upper drains easily and dries well.
As for racing faster/shorter ultra events, the Hoka Speedgoat offers a little lighter alternative with more gripping lugs and a bit sleeker/racier design.
I have just purchased the Speedgoats and I was very impressed with my first run in them yesterday. I plan on using them primarily in shorter, faster races and continue doing most of my training and long races in the Mafates.
Hoka Speedgoat Review
A full review of the Speedgoats will be posted once I have had several weeks of testing them out on the trails. I would love to hear of your experience with the Mafate Speed 2, the Speedgoat or any Hoka One One shoe. Do you have a favourite?
Happy Running,

Andrew.

Post race update: I did find myself rolling over on my right ankle several times in this race. Obviously in the race environment we are putting more emphasis on speed and therefore there are more chances of error in foot placement.
In saying that, when my new Mafate Speed 2's arrived, I was able to compare them closely. The integrity of the midsole of the worn pair had weakened quite substantially, very evident in comparison to the new ones.
The Worn Pair                                                                                                               The New Pair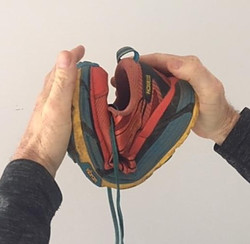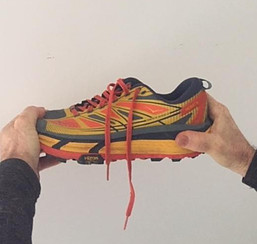 In hindsight this stage of wear allowed more movement and less stability – not ideal in the racing environment. For future races I would ensure the shoes I wear have much less mileage on them.
Those last 150km or so of wear left on the shoe are fine for some easy training miles but not for race day.