About My First Marathon – at the age of 67!
About My First Marathon – at the age of 67!
Runner Profile – Margie O'Brien
About My First Marathon is our very first runner profile and we are super excited that our very first runner is  Andrew's Mum Margie!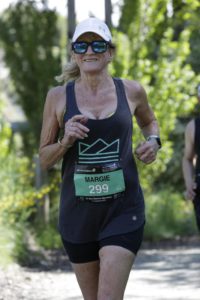 Margie O'Brien is an active 67-year old who likes to run regularly to maintain her fitness. Margie is a big believer in the "Use it or Lose It" mentality and does not want or expect to be idle at any stage of her life. She lives in the beautiful seaside town of Valla Beach in NSW, Australia. We sat down with Margie to ask her some questions on her first marathon which she completed in Queenstown last November. See Margie's "All About My First Marathon" below….
On the Bucket List
So Margie, what made you decide to run your first marathon at 67 years of age?
Around 40 I was running fairly consistently. My boys were very active and right into many sports. At that time in my life I completed a half-marathon which I really enjoyed and I thought "one day I will run a marathon".
Of course life happens and years go by. In 2017, I went to New Zealand with my son and daughter-in-law as my son was competing in the Queenstown Half Marathon. Watching all the competitors coming in on the home stretch I thought why aren't I doing this?? I decided then and there I would be back the following year doing this myself. It had always been on the "bucket list" but had somehow been forgotten in the busy-ness that is life.
What sort of training did you start undertaking?
Well, I guess I underestimated the training that was required. Phoning my son, I told him that I'd decided that this year I was going to do the Queenstown marathon. I remember saying "I ran 10km today and next weekend I will do 20km". I could almost hear him shaking his head over the phone. He said, "Mum, that's not going to cut it…" He even suggested perhaps I should just do the half… but I knew it was the marathon I wanted to complete.
Coaching
My son Andrew is a very competent athlete who has achieved pretty amazing results in triathlon in his age group. He is quite familiar with the sort of training that is needed to obtain results. He told me then and there that he would take over my training program for the marathon which I was very grateful for. Although I knew this training would be beneficial, I am also a very strong willed and determined person and I fully believe this would have got me over the line. It may have been naïve, but I believe I would have made it. The training I started on from this point really made me appreciate the work that goes into and is required for this kind of thing.
For tips on a well-rounded training schedule, click here.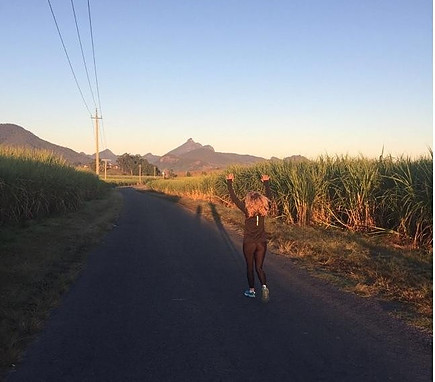 What was the hardest part of the training?
That every day, rain, hail or shine, I had to get up and complete the set program that Andrew had given me. Another reason why having the program was so great, that I had an accountability factor that forced me to get it done. It also made me appreciate the kind of training that he was doing for triathlon, especially the fact it was for three disciplines – swimming, cycling AND running.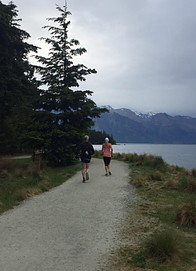 As training progressed some of the runs became a lot longer. Some of these runs were quite challenging but I was determined to tick them off. I can remember a motivating tool I used to use was to get to half-way and belt out the tune "Ohhhhhhhhhhhh, we're half-way there!!!!! Ohhhhhh! Living on a prayer…….." Would you believe that during the race they had bands set up at various points along the route and TWO times this song was hammering out as I passed. This was such a lift for me.
Any Injuries or Niggling Issues?
Around mid training I was suffering from a few minor feet issues and Andrew suggested I needed more support for the mileage I was now doing. He recommended a pair of Hoka's at this stage and they made an incredible difference from there on.
Tell us about the marathon:
I caught the transfer bus out to Arrowtown (all by myself) early on race morning. That morning was incredibly cold and we had to be at the start line in our running attire at a certain time. I was freezing! My greatest fear was requiring a "poo' stop during the race. I felt like I had been to the toilet a dozen times prior to the start with nervous anticipation. Once we got going and arriving at Arrowtown I noticed several people waiting at the toilet stop. This immediately planted the idea that I had to go too. Not wanting to stand in line I was soon running off into the bush like I saw others do for my first wee stop. Once that was taken care of I could get on with getting into a routine.
I had a rhythm of "1-2-3-4" which just kept me going even when it got tough. I was able to keep this going knowing it was manageable for me. It related to 7:32 min/km pace (and a finish of 5hours and 20 mins – which was within my goal so I was stoked!)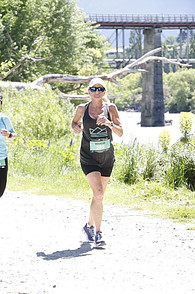 I can remember a point towards the end of the race, around 3-4kms from the finish, that I thought OMG this is SO hard, F*!k this!!" It just happened to be another point where my Bon Jovi song came on and I said to myself "Hey! You've trained for this, you've got this!" and "there's no way we're stopping now!!"
The Highlight?
Definitely coming towards the finish line. My son and daughter-in-law were standing beside the final run shoot and seeing them brought tears to my eyes. I stopped for a quick cuddle before enjoying those final amazing strides to the finish. The crowd, the atmosphere, the sheer achievement… made it all SO worthwhile. Wow, so good to finish and to have done it! Bucket list item ticked off! Time to sit back and bask in the glow. Spending time in recovery with them and my partner and some lovely friends was a special time. I was just overwhelmed with the elation of achieving what I'd set out to do and now being able to completely relax. And party. Haha, well to be honest we did have a pretty great night in Queenstown that night but I'd say very well deserved!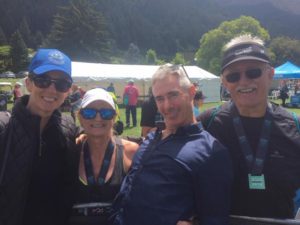 How were you feeling the next day?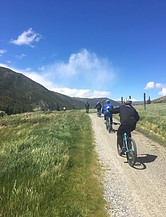 Well, my son and daughter-in-law had pre-planned a cycling-winery tour! Not the best activity the day after a marathon! But hey, if there's wine involved I'm there! Yes I was a bit stiff but I was able to move and get about. Also still on a high from the day before.
What Advice would you give someone contemplating their first marathon?
Oh do it! 100% do it! Or "Just Do It!" The whole experience was amazing, yes, challenging but so rewarding. I have such fond memories of the experience and I'm so glad I committed to it.
Check out Margie's run on Relive here: Margie O'Brien Queenstown Marathon