Training for Trail Running – Week Two Progress
Training for Trail Running – Week Two Progress
Building a Strong Foundation
Week two of my training for trail running races has been banked with steady progressions. I am happy with how my body feels. My leg and buttock muscles have been sore from the extra work load with bigger elevation gains and also the leg exercises I've been performing regularly through the week.
For me, feeling this soreness is a good thing. It is a good indication that I'm doing the right work to strengthen the areas I consider myself weak in. My idea is to "stress" these areas just enough so that they will adapt and become stronger as opposed to over-stressing them and causing break-down of these key areas.
My training week went as follows:
DAY


TRAINING


DISTANCE


ELEVATION


Monday AM


Easy run

Ocean swim

10 min leg & core workout

8.7km

637m

50m

Monday PM


Run with 10 x hills

6km

256m

Tuesday AM

Easy run

Ocean swim

10 min leg & core workout

7.21km

651m

135m

Tuesday PM


Easy run

11.2km

152m

Wednesday AM


Easy run

Ocean swim

10 min leg & core workout


9km

756m

174m

Wednesday PM


Leg exercises: 20 x Bulgarian single leg split squat

(each leg)

10 x Bulgarian split squat (each leg)

5 x Bulgarian split squat (each leg)

Hip Thrusts: 100, +10 single leg (each leg)

Glute Medius Leg Lifts: 30 each leg.

Thursday AM


REST

Thursday PM


Warm-up run

Main set broken 1600's interval training

5.5km

11.5km

76m

Friday AM


Easy run

Ocean swim

10 min leg & core workout

5km

950m

82

Saturday


REST DAY

Sunday


Long trail run

Warm-down

22.7km

5km

830m

130m

TOTALS


Running 91.9km

Swimming 2995m

1829m
*10 min leg & core work-out consists of leg raises, side raises, single-leg squats, donkey kicks and hip thrusts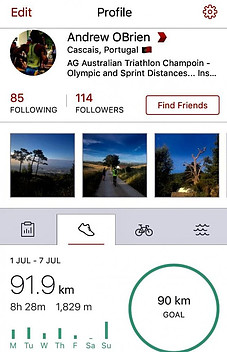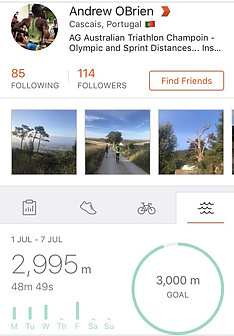 While the total kilometers were the same as my first week, the elevation increased by 1000m. This was the primary reason for the muscle soreness.
Swimming
The swimming that I do during the week is good for two things:
1. A great form of low impact cross training which increases my lung capacity.
2. The cold temperatures of the Atlantic ocean (14-20 degrees Celsius all year) act as a cold water therapy and anti-inflammatory session for my body. I have really noticed a difference in improved recovery and also all round well-being. If you are unfamiliar with cold water therapy I highly recommend you check out Wim Hof, (though he likes it a bit colder than that!)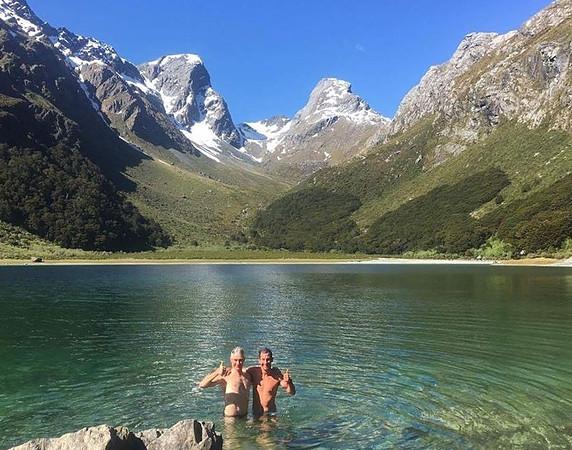 Me and my mate Jim in an alpine lake in NZ (this is not the Atlantic…)
Looking Ahead
The next four-week block will see the same total of kilometers but the elevation will continue to increase. This of course is subject to change as I will listen to my body and any signs of over-training and I will change the regime accordingly.
Also to add to my leg strength training I will incorporate some low impact cycling which will be done primarily in the mountains, climbing.
If you'd like to follow my progress on Strava you can find me under Andrew O'Brien (Cascais, Portugal).
If you have any questions, comments or feedback I'd love to hear from you!
Happy Running!
Andrew.