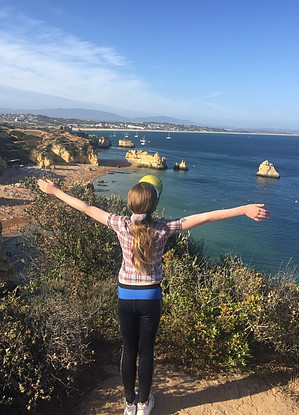 Running on Tour – Road Trippin' in Portugal
Running on Tour – Road Trippin' in Portugal

Time for a Little Getaway
We have been living in and enjoying the beautiful area of Cascais for several months now. While it has been great I have longed for the opportunity to get out and explore more of Portugal.
Last week the opportunity arose. A very good friend from Australia has come over and is touring around a bit while he is here. Jim and his girlfriend Amy hired a van big enough to fit five people so that we could tag along for the first few days of their trip. The prospect of running on tour in some new and unexplored places was very exciting.
Setting Off on Our Adventure
We set off last Friday heading south by going over the amazing Ponte 25 de Abril (the iconic big red suspension bridge going over the river Tagus). It is very similar looking to the Golden Gate Bridge in San Francisco but is actually not as long. Quite the experience right there with the amazing views over the river to Lisbon, the low humming roar as you travel across and the sight of the huge statue of Christ the King looming up from the south bank of the river.
How lovely to be travelling in a vehicle again! It had been so long. It was quite nice just to sit back and watch the sights passing by with the wind in my face. We had been warned about the tolls in Portugal so they did not come as a surprise. What was a surprise is the one asking for $13 euro!! Wow! That's like twenty Australian dollars. And I thought the gateway in Brisbane was getting expensive at around $3.50!
Porto Covo
Our first stop and camp for the night was the lovely seaside town of Porto Covo. A beautiful expanse of Atlantic Ocean coming in against rocks, cliffs and alcoves of hidden beaches. We were lucky to find a good park up on one of the main cliffs which had a brilliant view over the ocean. The only negative I would comment on is the definite smell of urine about. I guess this is due to no toilet block in sight and there were many cars and campers in the car park.
It was particularly stunning at sunset, which was also a real novelty for us having it set into the sea. Being from the east coast of Australia we were used to the sun rising from the sea. I must say sitting around chatting and taking photos, a cold beer in hand while the sun set over that massive expanse of ocean was a truly special memory.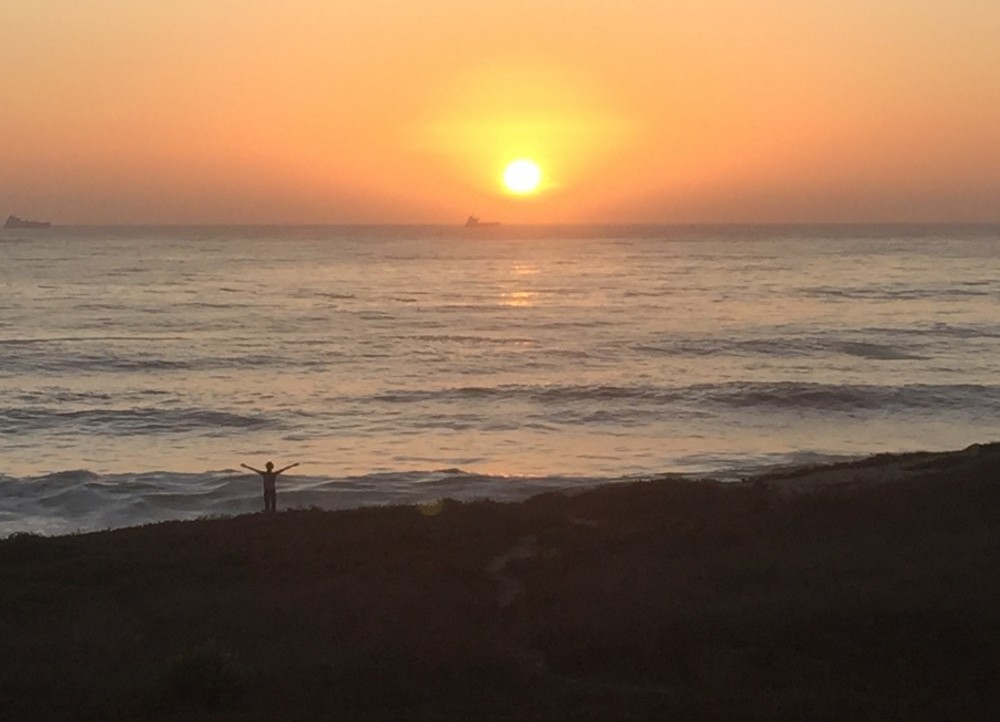 New Trails
The next morning we were up early to go for a run. Plenty of trails along the cliffs to explore with amazing views as we went. Just had to be a little careful as they get quite close to some pretty steep cliff edges. One thing we have noticed in Portugal is the difference in public safety standards. There have been many instances where we comment "oh wow, they wouldn't allow that in Australia" or "they would definitely have a rail up there if we were back home". Not that I'm complaining, I think we go over-board in Australia with this kind of thing. Common sense needs to come into play at some point right?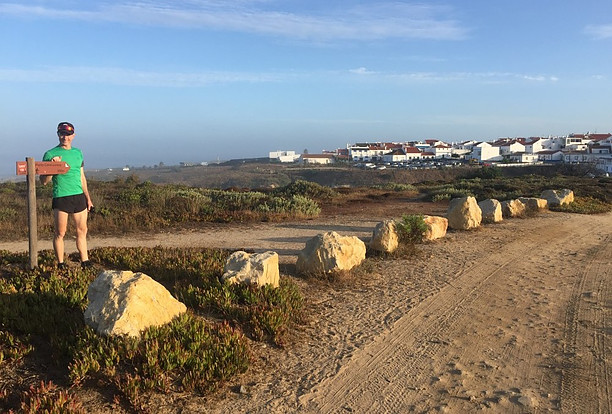 We finished off with a refreshing swim in the first real waves we'd encountered since coming over. As Cascais is protected it is more bay-like than open beach so we don't see any big waves. Still very cold in the ocean! But a great way to start the next days travels. We excitedly set off for day two, stopping for mandatory coffee in town along the way.
Vila Nova de Milfontes
Meandering down the coast the next stop was Vila Nova de Milfontes, a charming Portuguese resort town. This was a very pretty spot and we spent well over an hour having a look around. As you walk down towards the river mouth and ocean it opens right up to a wide, lake-like area which was filled with happy tourists sun baking and playing on the sand. Pretty easy to see why this place was so popular. We would have liked to stay longer but had plans to make it to the "End of the World" by the days end.
Cape St. Vincent, Sagres
Cue "It's the End of the World as We Know It" by R.E.M. as we continue south (I'm quite confident we were not the first ones to sing this on our way here). Cape St. Vincent lies in the south-western point of the bottom of Portugal. Thousands of years ago it was believed this was indeed the "end of the world" and after visiting here it was easy to see why.
This was a place of interest we really wanted to make it to but I imagined just a cute lighthouse on a cliff. It was actually much more spectacular than I expected with very high dramatic cliffs that drop straight down to a wild sea. Even the several kilometers leading up to it are quite jaw-dropping as you see the historic lighthouse made to look so insignificant against the enormity of the surrounding landscape. Our daughter Lily especially liked it here and had fun turning a five cent piece into an end of the earth souvenir and playing with the resident lighthouse cat.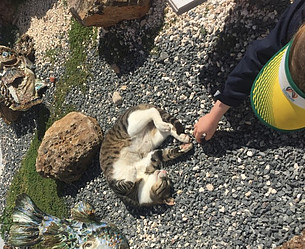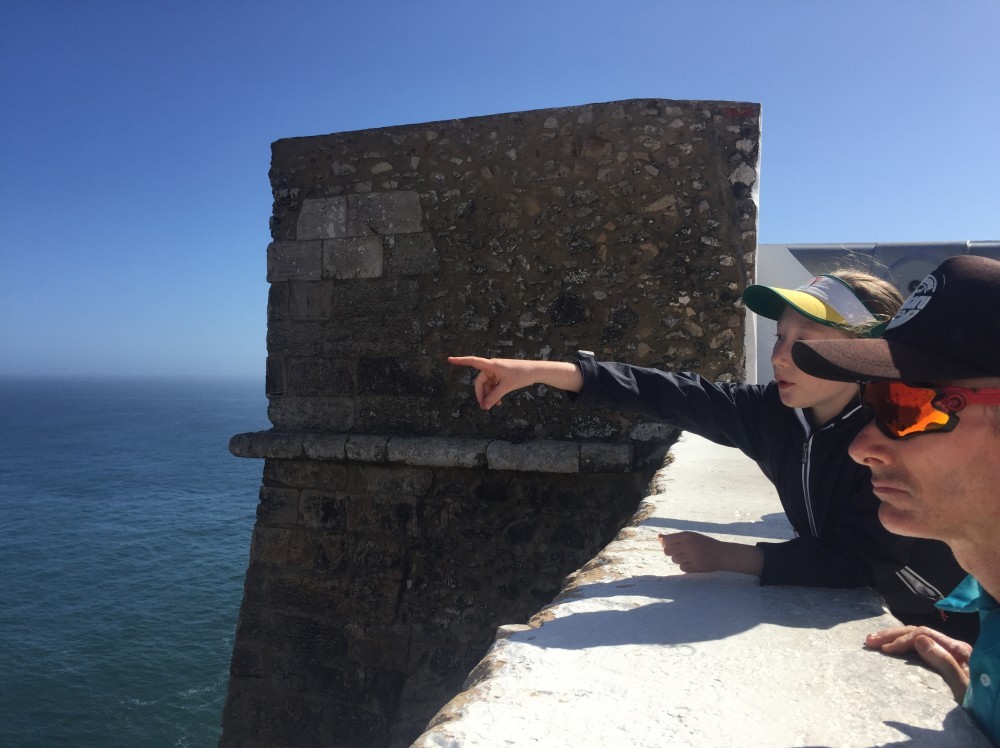 The Algarve Coast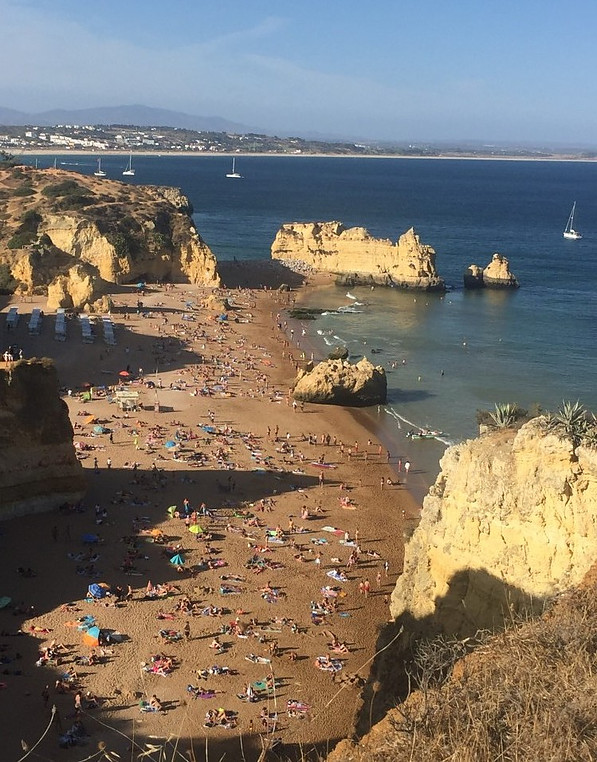 Next stop: Lagos! More stunning cliffs but now in shades of golden sand, falling away to a clear turquoise sea. Due to its dramatic coastline of cliffs there is an abundance of little alcove beaches and cool little places to explore. We spent a couple of hours exploring a trail along the cliff here and again would have loved to stay much longer. By this time we were running out of day so needed to find our next stop and set up for the night.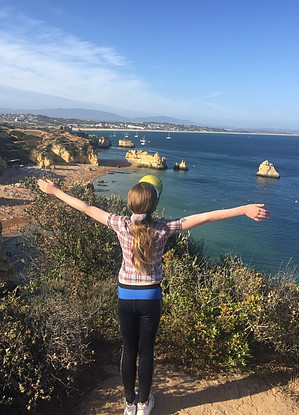 We ended up down by the ocean at Albufeira, another really lovely spot. It was pretty late by this stage so it wasn't until morning that we got to see just how nice our surroundings were. There was a long wooden boardwalk over the sand dunes that ran parallel to the beach as well as off shoots leading down to the beach.  It was fun going for a run along these and again finishing off with another very refreshing dip in the ocean (still very cold!)  Today we were heading to Tavira before heading inland back towards Lisbon.
Tavira
Tavira was another pleasantly surprising place. A very charming medieval city, it has the ruins of a castle in the historic centre. You can explore and climb the stairs to the wall which overlooks the town and river. We meandered around the quaint streets and finished off our tour of Tavira with some very nice gelato.
By the time we left Tavira we were quite hungry and had some hamburger patties that needed to be cooked up sooner rather than later due to our disappearing ice supply. As the van was equipped with a little gas cooker and frying pan it was just a matter of finding a suitable place to stop. When hunger got the better of us we ended up parked off by the side of the road under the shade of a tree, having a little picnic cook-up on the ground. I think it was a pretty amusing sight for the cars passing by as we got several amused looks and waves. Very nice hamburgers too! We don't eat a lot of meat these days but I did enjoy this meal with hamburger patties from the Azores.
Quite a Few Aussies About
Tavira is very close to the Spanish border and we were soon turning away from the coast heading inland. Here the landscape continually changed. There were times I could have sworn I was in Australia, passing many Eucalyptus trees along the side of the road. I have since found out that our native tree was introduced here in the 1800's and later heavily planted as a paper and pulp crop. Due to its high flammability it can have devastating effects in Portugal's all too common forest fires. One article suggested that some Aussies have overstayed their welcome….
Mertola, a very special place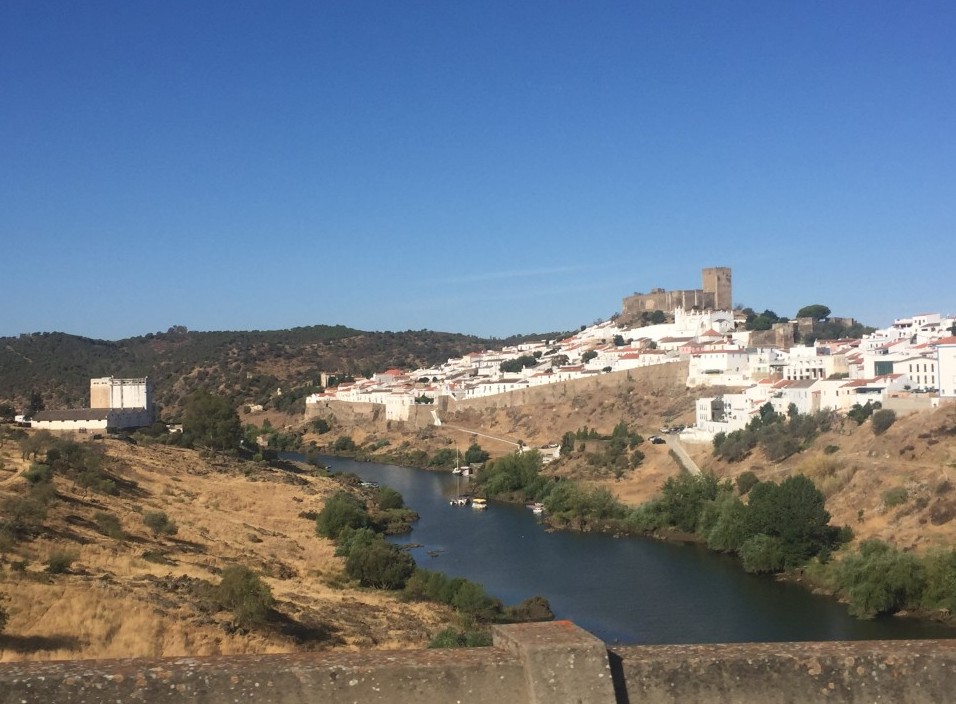 Initially we had planned to make it back to Lisbon on this day. The delightful medieval town of Mertola had us changing this plan soon after we parked up here. While the impressive castle, walls and bridge caught our attention immediately we did not expect much more from this little village on a hill.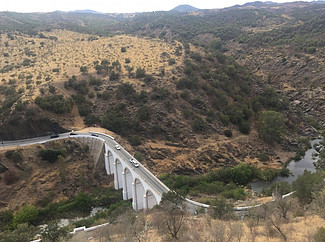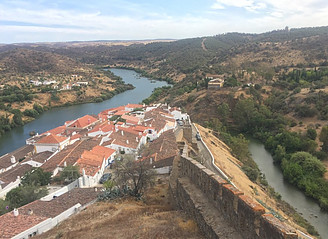 We first made our way up the cobblestone road that led up to the castle. The charm of this town soon had us all mesmerised. Its history is as long as it is interesting, being inhabited by the Phoenicians, the Carthaginians, the Romans and the Moors. It has a well-preserved ancient Mosque and along with many archaeological historical findings has become an important cultural tourist site.
From the castle tower we could see an area down by the river that looked ideal to park the van and we made our way there to set up. It was nice to have plenty of time to relax and enjoy our location this time. As we ventured down towards the river we met a lovely young local named Joao who provided us lots of great insider knowledge of the town – including a fabulous authentic Portuguese restaurant we should eat at.
We had a lovely afternoon roaming the pretty cobblestone streets and admiring the views from just about every aspect of town. I could easily imagine days of many years past of Romans fighting a battle here, defending their village. Andrew and I are always overwhelmed at the history here in Europe. Perhaps due to coming from such a relatively "young" country in comparison, where we don't have thousands of years of documented settlement and architecture.
Ending a wonderful day we ended up at the recommended Restaurante Regional A Esquina and it did not disappoint! The best authentic Portuguese experience we have had so far. We even impressed ourselves managing to order the chicken and the fish from the non-English speaking waiter.
On the Trail of Romans
The next morning I headed out on a trail run with Andrew and Jim. We took a track that led off from the castle road and crossed the river gully soon after. We spent the next hour either on a man-made trail, an animal trail or completely in the bush! It was a real adventure and I thoroughly enjoyed it, especially imagining past invaders approaching the castle. With many steep ascents and descents I felt like we'd done around 10km and was shocked when Jim reported only five! Slow going on these more technical routes! Definitely a memorable run, and this time finished off with a river swim rather than an ocean one. Finally some warmish water!
After some breakfast it was time to head towards home. We did make a small detour trying to find a natural mineral spring that Joao had told us about but unfortunately we couldn't find it. On the way back through town we lined up for more diesel (there was a strike on) and once it was our turn the man put the sign up that they were out! Bugger… we did have enough to make it back though, it would just depend on what fuel could be found further along whether Jim and Amy would continue on after dropping us back home.
The other two stops on the itinerary for our last day included Beja and Evora. The beauty of Portugal is you never have to be driving long before an opportunity for a break presents itself. Both of these towns did not fail to impress with their history and charm. Evora is particularly beautiful and deserves much more than an afternoon stop to enjoy all of it's wonders. We finished off our tour here with a well-deserved cold Super Bock at an open air café close to the Roman Temple of Evora (very cool!).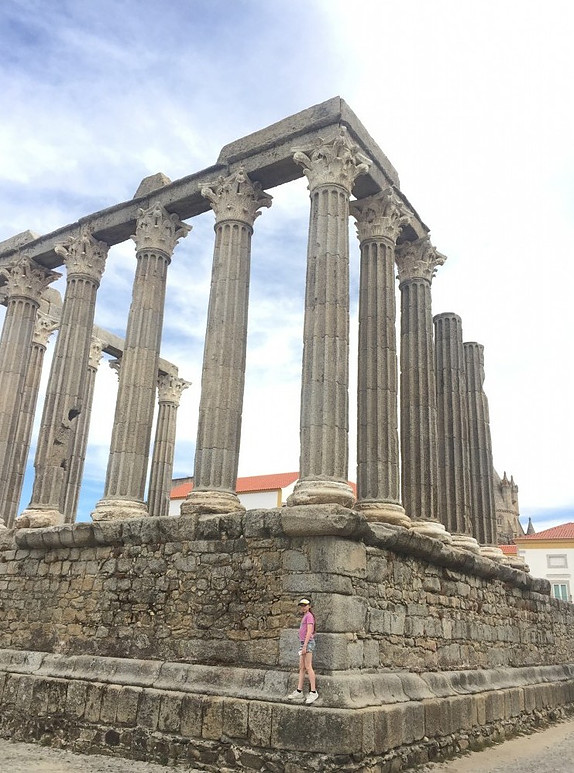 Coming to an End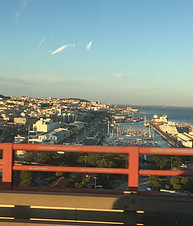 The last little highlight before the end of our trip was going back over the Ponte 25 de Abril the other way. Just as exciting as the first time but a little bittersweet knowing our road trip was coming to an end. It had really been a wonderful time had by all.
Adventures away like this remind me how much I love travel, adventure and the opportunity to explore new places. I guess this is why I love trail running too, as it's like all these elements on a smaller scale. Your own little mini getaway and adventure.
Seeking Adventure
Since our little road trip we are super keen for the next adventure. We have entered a trail run in December in the Azores which will be amazing. Perhaps before then we might sneak away and explore Coimbra, Obidos and Aveiro which I've heard so much about. Then of course there's beyond Portugal to explore….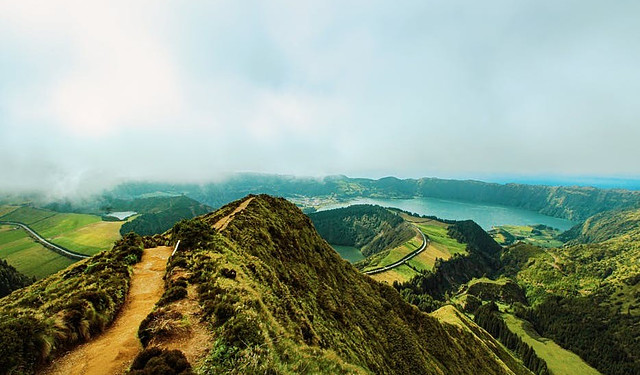 I am amazed at how a new adventure or getaway can give you a new perspective on things. A fresh take, a fresh start or just a more positive outlook.  And if taking off isn't possible then just put your shoes on and go out on that mini adventure! Get out in nature and explore new trails, new views and new perspectives.
Until then, Happy Trails.
Lisa