Trail Running Shoes Vs Running Shoes – Does it Really Matter?
Trail Running Shoes Vs Running Shoes – Does it Really Matter?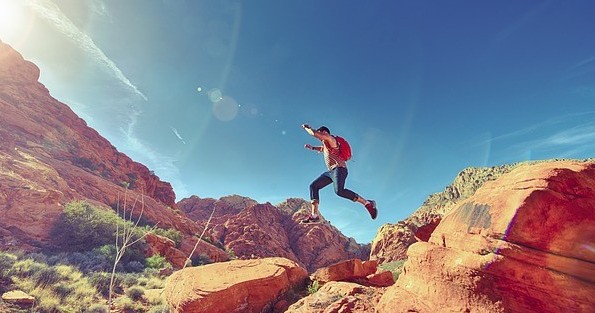 As a newcomer to either running or trail running the question over what type of shoe you need to invest in and whether there really is much difference between them often comes up. The debate over trail running shoes vs running shoes does bring in several good arguments with many factors to consider.

Where to Start?
When starting out, a good supportive running shoe will be fine for smooth, relatively easy trails but when the trails get more technical there are several factors that make the trail specific shoe the best option.
Trail shoes offer three main advantages over road shoes for off-road, providing more:
Protection
Stability
Traction
They tend to be heavier and more rigid but this is a good trade-off for the above benefits they provide.
Road running shoes are generally made from a light weight material for speed and responsiveness and are designed for environments where there is not as much requirement for traction. 
Protection on the Trail       
Trail shoes generally have a wider sole and are built to be closer to the ground which provides support and stability especially over uneven surfaces and is particularly important to help prevent ankle twists. 
Most trail specific shoes include a thin rock plate insert between the midsole and outsole that helps protect your feet from rocks, roots and other debris.
There is also much more robust material used around the toe and uppers ("toe bumpers") making it heavier, but much more protective over hard or jagged terrain.
Some trail shoes are also fitted with a gusset tongue (scree guard) that prevents debris from entering around the top of the shoe (or the "collar" of the shoe). This can be invaluable for preventing blisters. Other trail shoes have attachment points for this purpose where you can add your gaiters on – small skirts of material that surround the shoe uppers and extend over the ankle to prevent debris from entering.
Stability on the Trail

Trail shoes often have more stability built into the shoe because of the uneven surfaces that trail runners face like roots and rocks. Along with these supports trail shoes often have a thinner, denser midsole for a lower to the ground feel. Therefore reducing the chance of rolling an ankle and also providing better responsiveness. They can also have a wider sole platform along with a rock plate for additional stability and protection.
In saying that there are road shoe models out there that provide extra stability in the way of heel cups, supportive uppers, stability rails and variable density midsoles.
Traction on the Trail
While some road shoes are using less on the outsole to keep the weight down, trail shoes have rubber lugs for traction. These vary in size, some being small and others quite aggressive.
The aggressive outsole tends to be heavier but is invaluable in muddy conditions or extreme rocky escarpments. The lesser aggressive outsole is fine for easier trails underfoot. There are still a good selection of road shoes that have adequate sole grip that would be fine to get you around the easier trails.
For tackling slick, rocky trails the trail specific shoe generally has softer rubber outsoles which provide a sticky-like grip to obtain good traction.
Choosing the right shoe for you..
The trail surface and the conditions at hand will determine the most suitable shoe for a safer and more enjoyable run.
A tip for helping you determine what type you should opt for: If you're on a trail where you need to consciously look down to ensure solid footing then you likely need a trail specific shoe.
Below is a list of different shoe types and their corresponding surface suitability:
The Road Shoe

These shoes are lightweight with less durable material, built for a smooth road ride. In saying that road shoes are generally fine on non-technical, even trails that don't have slippery grass, muddy bogs, greasy slopes or rocky outcrops.
eg. Asics Gel Kayano, Brooks Glycerine, The Hoka One One Clifton
The Hybrid (road/trail)

If you want a running shoe that doubles as a trail shoe then the hybrid could be the right choice. These shoes are great for runners who spend time running on surfaced pathways along with hitting easy to moderate trails. These shoes are primarily road shoes built with extra protection, stability and traction to get you around any non-technical surfaces. A plus if you don't want the expense of owning two sets of running shoes.
eg. Hoka One One Challenger ATR 5, Saucony Peregrine ISO, Brooks Caldera 3 
The Trail Shoe
The extra weight of the trail shoe is a worthwhile trade off for the superior protection, stability and traction.
Trail specific shoes will give you these features along with lasting you a lot longer due to the thicker material used and stronger construction. If using a road specific running shoe on the trails you will find the shoe will not last half as long as a trail shoe under the same conditions. 
Although these types of shoes are an excellent choice for technical trails, when running on roads or paved surfaces they will likely feel too stiff and do not offer as smooth a running feel.
eg. Salomon Speedcross, Hoka One One Speedgoat, Addidas Terrex Trailmaker GTX


Play it Safe
Ultimately you want a well fitting shoe that you not only feel comfortable running in, but provides correction and support for any weaknesses you may have (ie overpronation, flat feet). A reputable running shop will have the means to assess you and ensure you are set up well before you venture out on your first run.
A hybrid run/trail shoe is a good choice when you are first starting out and you have taken the above factors into consideration. As your trail running passion grows you will begin to know what you like, what you're comfortable in and what you find lacking in your shoe. Your feet are your foundation when running so ensuring they are taken care of will keep you out on the trail for years to come!